Artist Interview | Hari Lualhati
Become acquainted with perhaps a few unknown dimensions – thoughts, ambitions, wisdoms, life changing moments – of this inspiring artist.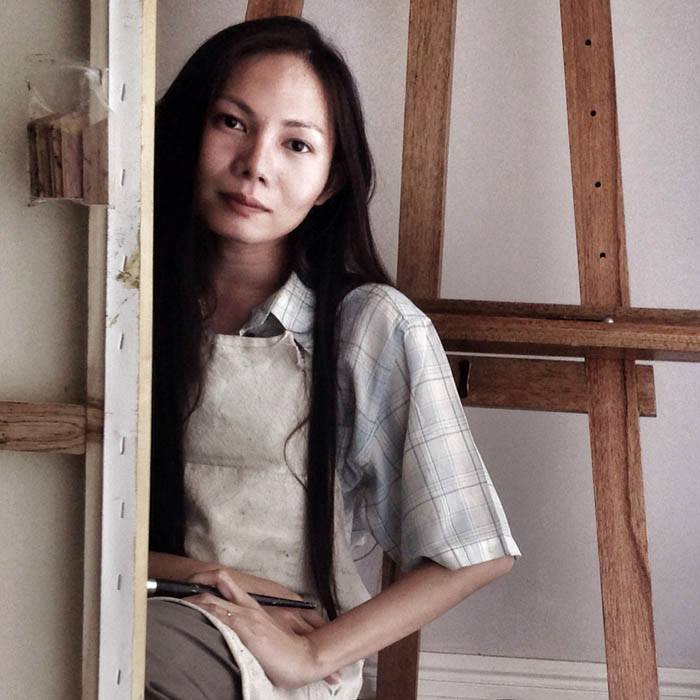 What do you do and what inspires you?
My artworks are inspired by powerful lessons I've learned from life. My paintings emphasize the value of life and incorporate elements like nature and animals to show that we are all connected. Layers of expressive brush strokes can be observed at each painting, together with my rich devotion to details. I paint with my heart. For me, a painting is successful if it can make anyone who would look at it feel the emotion that it's supposed to give. It is like delivering a clear message by touching the hearts of the viewers.
What project are you working on now?
I'm currently working on a new series of paintings. Very interesting theme, and I've also incorporated new techniques that were never seen in my earlier paintings. I'm also preparing for an upcoming solo exhibition soon. I will post more details on my Facebook Artist Page.
Why do you do what you do?
Ever since I was a kid, I have always been interested in art. Although I used to work as a graphic artist, product designer, and illustrator, I still painted in my spare time. It was only during 2012, that I decided to follow my heart, take this huge step, and only concentrate on my painting career. For me, this profession is a calling, you must have the dedication and must really love to paint in order for you to survive in this field.
How has your practice changed over time?
I've always strived to develop my skills by trying different techniques but making sure to have a distinctive style. When it comes to the themes of my paintings, they also change, as they are the reflections of significant memories in my life.
What is your strongest childhood memory?
My strongest childhood memory would be all those times when I competed for on-the-spot poster/painting contests. I remembered other events when I represented my school and, most of the time, I received an award. These are the things that developed my interest in art at a very young age.
What is your scariest experience?
One of my scariest experiences was when I had a dream that I was dying. I was being buried alive, and all I saw was black. Then, I suddenly struggled to breathe. I prayed and thanked God for everything, and surprisingly, after my prayer, I woke up from that bad dream and everything was all right. That dream has made me appreciate life more.
Describe a real-life experience that inspired you.
There would be a lot of experiences that inspired me, but the ones that inspired me the most are those that were struggles which I experienced in life. The lessons I've learned from these life trials have always inspired me to create paintings about them and to be a better person.
What superpower would you like to have and why?
I've always dreamed of flying with the birds. I think it would be a very good way of meditation and can be an easy escape from all the noise and business in this world. I also want the power of reading other people's minds. I think life would be easier if I could immediately know the genuine intentions of a person without any pretentiousness.
What is your dream creative project?
It would be the project I'm working on right now, a series of paintings. but with a much bigger budget and being able to exhibit them all over the world.
Which place in the world do you find to be the most inspiring?
For me, the environment is really not a big deal. Any beautiful place would do as long as I'm happy inside,; then I'm sure I would be inspired.
Do you make a living off of your art?
Yes, but I also do accept illustration jobs.
What is the best piece of advice you've ever been given?
Follow your heart.
Hari Lualhati was born in 1985 in the Philippines and is currently based in South Africa. Visit http://harilualhati.yolasite.com
https://artascent.com/wp-content/uploads/2017/01/ArtAscent_2017V23-MC94-1.jpg
774
594
ArtAscent
https://artascent.com/images/ArtAscent-LogoHorPP.jpg
ArtAscent
2017-04-01 14:38:06
2023-03-13 13:58:19
Artist Interview | Hari Lualhati